Weekend warrior? High school basketball player? Competitive triathlete? What any athlete eats can impact how they feel during a workout. Having a good nutrition plan is key to maximize your exercise performance. And that boils down to healthy meals and snacks all day, erryday. But who has time for that? I'll be the first to admit that it is HARD to plan nutritious and yummy meals all the time.
That's where meal prep comes in. Taking time once a week to plan and make healthy meals is a great habit to get into. As a mom and a sports dietitian, I rely on this strategy to keep our household well-fed. Not to mention that it helps keep my sanity! So let's dive into my tips on meal prep for athletes.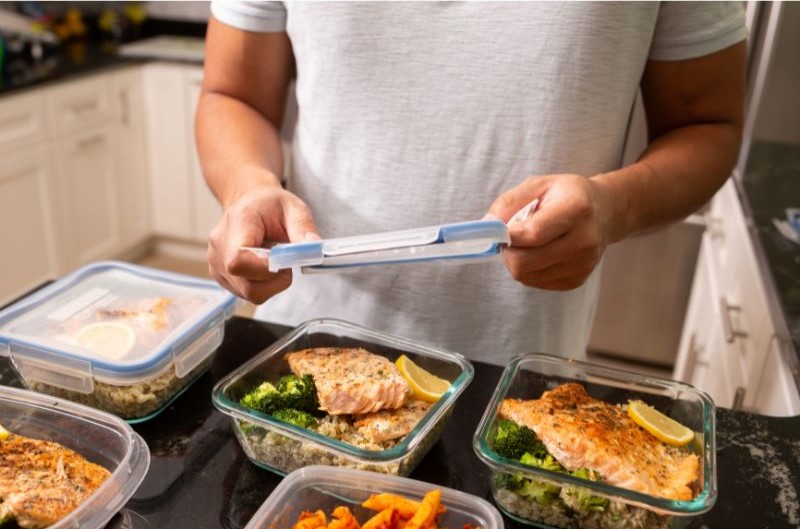 A Refresher on Nutrition for Athletes
What you eat can play a big part in your athletic performance. There are plenty of general healthy eating guidelines floating around online, but those don't always align with what athletes need. Timing of meals and snacks is so important to make sure that an athlete's body is fueled up for exercise. Focusing on carbs and protein will help to provide energy and help with muscle repair.
It can be confusing to figure out exactly what an athlete needs to eat. Here's my chance to plug the value of working with a sports dietitian. Cut through the social media hype and get straight answers based on the research. If this sounds like something you need, work with me! Click here to find out more. 
Understanding the unique sports nutrition recommendations is the first step. Translating that into actual foods and meals is a whole other thing. You mean we have to create super creative and nutritious meals multiple times a day? Everyday? Forever? Oi vey. For most of us, meal prep is a huge timesaver and crucial for our mental health. Let's face it. We are all creatures of habit. So we are usually okay with having the same meal or similar ingredients multiple times a week. Especially if that means we don't have to spend hours in the kitchen making each meal. Convinced to give meal prepping a try? Next I'll share some tips to get started.
Meal Prep for Athletes: Start with a Plan
Ironically enough, we need to do a little prep before we prep. No worries – this will ensure that your meal prep meets your needs!
First things first, identify which meals you should focus on prepping ahead of time. Look at your calendar for the upcoming week, and ask yourself the following questions: When are you exercising? Will you need to prep a meal before or after your workout (or both)? Where will you be for meals? Will you be able to heat up your meals? What meals do you tend to struggle with the most? For example, if you typically work out in the afternoon, then you may want to prep dinner to make sure you have a good recovery meal even if you are tired. And since lunch will be your pre-workout meal, prepping that can also help guarantee you get solid fuel to your muscles ahead of time. But breakfast may be less important to prep if you usually make a bowl of oatmeal or enjoy a breakfast sandwich.
From here, we need to come up with a weekly menu. Think about some of your favorite meals, or check out the recipes listed below. One tip is to focus on multiple ways to use the same protein. I love cooking a big batch of chicken in the slow-cooker, then shredding it and using that in several recipes across the week. Once you settle on the menu, now it's time to make a grocery shopping list. Check what you already have in your pantry or fridge so you don't overbuy. You should also make sure you have enough meal prep containers. Nothing special is needed – it really depends on your preference!
Grocery Shop Like a Pro
When you are grocery shopping, think about snacks and other meals as well as the meals you are about to prep. It's a good idea to stock up on trail mix, or dried fruit + nuts, since these can be a great pre-workout energy boost. Greek-style yogurt or pre-made smoothies are a quick post-workout snack option. What's your go-to breakfast? Grab those ingredients so you never have to skip the first meal of the day.
Now, even though we focus on carbohydrates and proteins, we still need to eat our veggies too. Load up a sandwich with leafy greens (and I'm not just talking 'bout Iceberg lettuce), avocado, and cucumbers. Toss some pre-chopped peppers and onions into an omelet (who doesn't love breakfast for dinner sometimes?!?). Add a bag of frozen mixed veggies into a stir-fry.
Let's also get enough protein for our prepped meals. Look for family packs or value packs of chicken, pork chops, and steaks. Grab the pack of 18 eggs. Find the large bag of frozen shrimp or fish filets. Buying in bulk can help keep the per serving cost down.
Meal Prep Success: Staying Consistent
Alright, the time has finally come: Meal prep! If you are using a recipe, check to see if you need to prep any meal ingredients – cut up veggies, cook the meat, make a sauce, etc. Then lay out your containers and create an assembly line. Using a measuring cup or spoon can help keep your portions consistent between containers. Then just repeat with any other meal you planned for the week!
Wow. That's it. Meal prep for athletes in a nutshell. The best way to make meal prep part of your weekly routine is to dedicate the same day and time each week. For a lot of us, that might be Sunday afternoon. It also helps to throw in a few new recipes or meals to add some variety. Check out the suggestions below.
Lastly, don't forget to adjust your meals as your nutritional needs change across your training year. Pre-season needs will be different from competition season and off-season. Another reason to work with a sports dietitian to help you tailor your meals all year long!
Meal Prep Idea #1: Grilled Chicken with Quinoa and Roasted Vegetables
This recipe works for lunch or dinner. It's super easy to customize the flavor of the chicken and veggies!
Ingredients:
– 2 boneless, skinless chicken breasts
– 1 cup quinoa
– Assorted veggies (such as bell peppers, zucchini, and broccoli)
– Olive oil
– Salt and pepper to taste
– Optional: herbs and spices for seasoning (e.g., garlic powder, paprika, or Italian seasoning)
Instructions:
1. Preheat the oven to 425°F.
2. Toss the veggies with olive oil, salt, and pepper. Cover a baking sheet with foil, then spread the veggies out. Roast for 15-20 minutes until tender.
3. Preheat the grill or stove-top to medium-high heat.
4. Season the chicken breasts with salt, pepper, and your choice of herbs or spices.
5. Cook the chicken for about 6-8 minutes per side, until the thickest part reaches an internal temperature of 165oF. Let it cool, then slice into strips.
6. Cook quinoa according to package instructions.
7. Divide the grilled chicken, quinoa, and roasted vegetables into meal prep containers.
Meal Prep Idea #2: Overnight Oats with Berries and Almonds
Got an early morning workout? You still need breakfast! Give this easy oatmeal recipe a try. Note: You can increase the amount to make more servings.
Ingredients:
– 1 cup rolled oats
– 1 cup milk (cow's milk is recommended – the Fairlife brand is lactose free!)
– 1 tablespoon chia seeds
– 1 tablespoon honey or maple syrup
– 1 cup mixed berries (fresh or frozen)
– Handful of almonds, chopped
Instructions:
1. In a bowl or jar, stir together the rolled oats, milk, chia seeds, and honey/maple syrup.
2. Add the mixed berries and chopped almonds on top.
3. Cover the bowl or jar and refrigerate overnight.
4. In the morning, give it a good stir and enjoy immediately or pack it into individual containers for meal prep.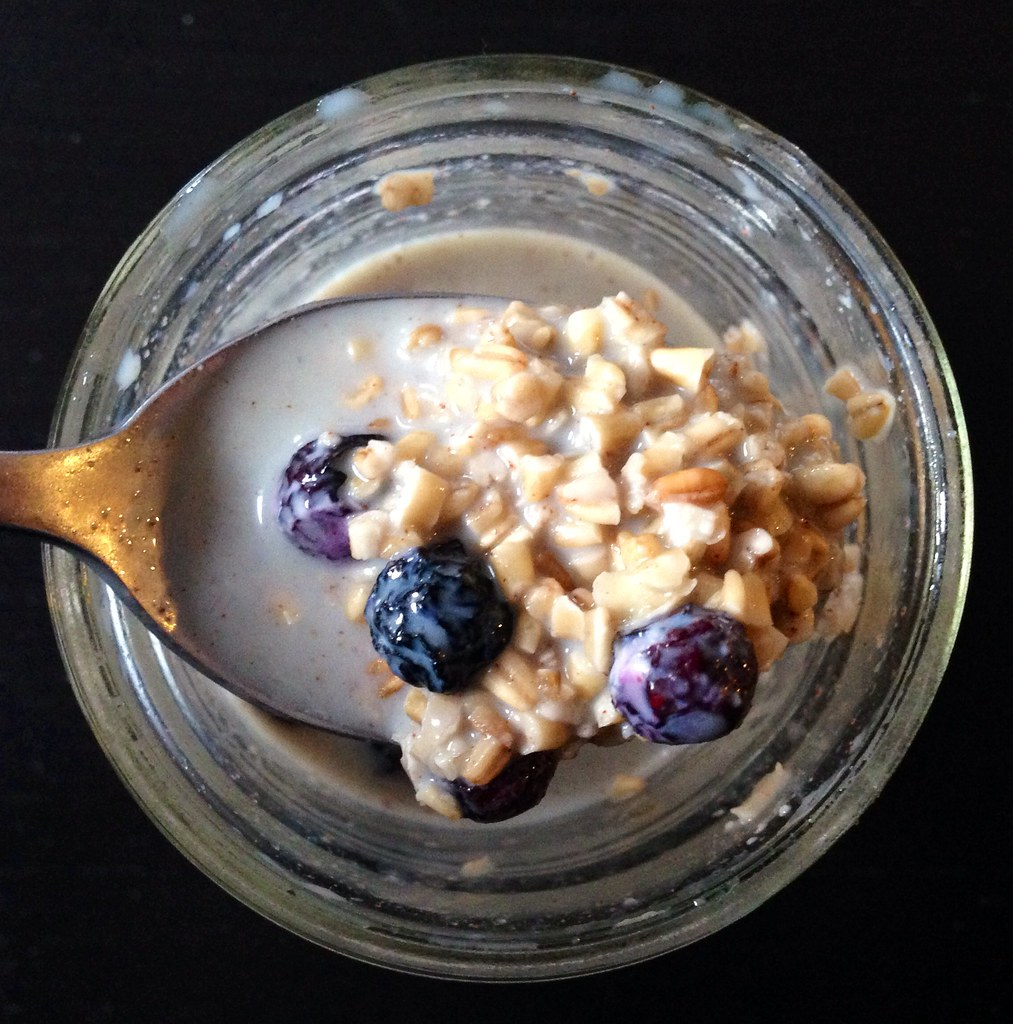 Meal Prep Idea #3: Turkey and Vegetable Stir-Fry with Brown Rice
Who doesn't love a good stir-fry? Add in whatever veggies you have on hand! Easy peasy!
Ingredients:
– 1 pound lean ground turkey
– 2 cups mixed vegetables (such as bell peppers, carrots, snap peas, and broccoli)
– 3 cloves garlic, minced
– 2 tablespoons soy sauce
– 1 tablespoon sesame oil
– 2 cups cooked brown rice
Instructions:
1. Heat a large skillet or wok over medium heat. Add the ground turkey and cook until browned and cooked through. Remove and set aside.
2. In the same skillet, add the sesame oil and minced garlic. Sauté for 1-2 minutes.
3. Add the mixed vegetables and stir-fry for about 5-6 minutes.
4. Return the cooked turkey to the skillet and stir in the soy sauce. Cook for an additional 2-3 minutes to let the flavors blend.
5. Divide the turkey and vegetable stir-fry along with the cooked brown rice into meal prep containers.
Meal Prep: Check!
Phew, we did it! Congrats on getting through your first round of meal prep. Trust me, it will be a gamechanger for you! Now comes the fun part – giving all those meals a try this week! Bon appetit!